Sometimes you just need something easy and quick – might as well make it delicious too! This was one of my go-to recipes even before I started on my keto journey. It's easy, only requires a few ingredients, and tastes amazing. So read on to learn how to make this keto-friendly crock pot buffalo chicken recipe!
Chicken: my favorite protein
Chicken is great folks. Keep that skin on and the bone in and you're in for a tasty treat. Or use cleaned boneless skinless chicken breasts as a blank palette for flavor. If you want a richer, fattier taste, go with chicken thighs (keto loves fat!). Slap some chicken on a grill, poach it in some stock, roast it in the oven, there are hundreds of ways to cook chicken!
In this iteration we'll be slow cooking some chicken for hours in a tangy, delicious hot sauce. After 8 hours undisturbed we'll be met with tender, falling-apart chicken imbued with intense flavor. Perfect for sandwiches, wraps, salads, or just eating plain. This recipe calls for boneless skinless chicken breasts (my favorite for this application), but if you feel like throwing in some boneless skinless chicken thighs, go for it!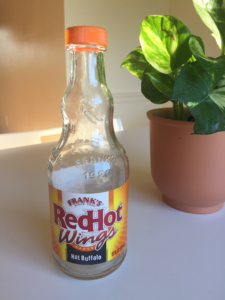 Low and slow is the way to go
Lots of slow cooker recipes give you the option to set your cooker on "high" or "low". Folks, I can tell you from experience, low and slow is the way to go. Cooking the chicken longer gives it more time to break down and more time for those amazing flavors to meld, which will result in a tastier dish! So if you've got the time, try this recipe on the low setting. Stick it in your slow cooker when you leave for work and come home to some delicious chicken!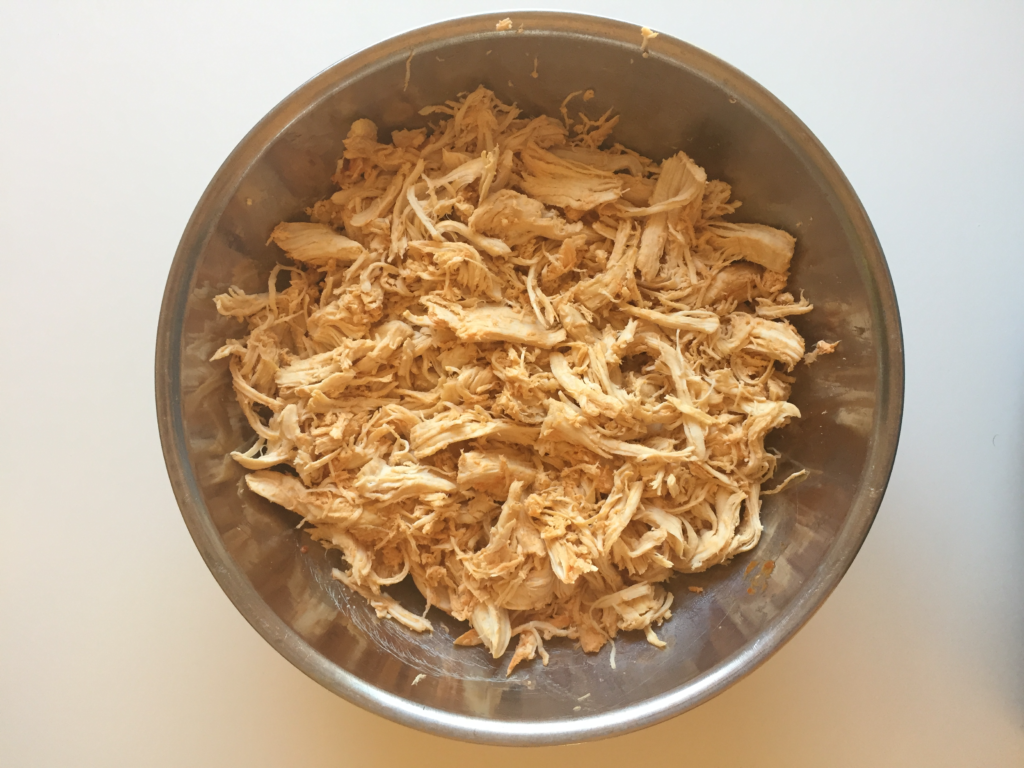 Set it and forget it: easy cooking
There are only 2 steps to this recipe: first cook chicken in buffalo sauce, then after 8 hours shred the chicken and throw in the remaining ingredients! That means you only have one pot to clean, and maybe 15 minutes of active time during the cooking process. The slow cooker does most of the work.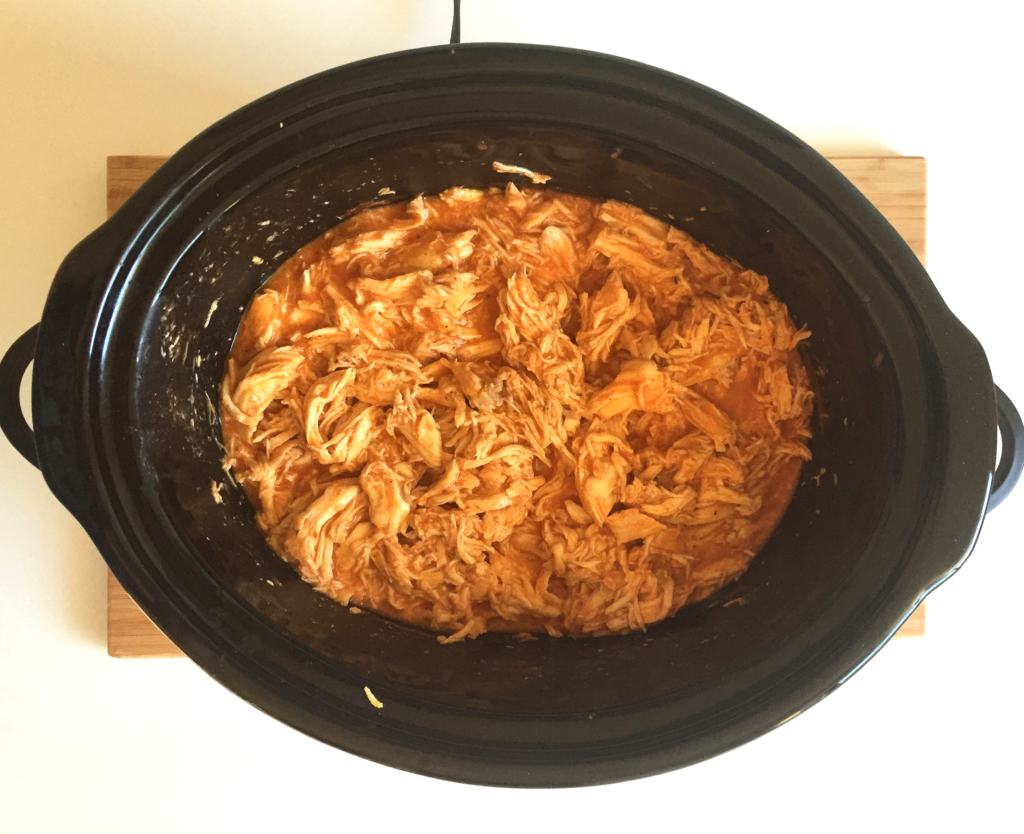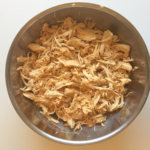 Crock Pot Buffalo Chicken
Cook Time
8
hours
30
minutes
Total Time
8
hours
45
minutes
Ingredients
4

lbs

boneless skinless chicken breasts

1

12oz bottle

Frank's Red Hot Buffalo Wings sauce

1/2

stick

unsalted butter

4

cloves

crushed garlic

1/2 of a

1oz

dry ranch dressing seasoning mix

chopped scallions

(optional)

ranch/blue cheese dressing

(optional)
Instructions
To a slow cooker add chicken, garlic, and hot sauce. Mix to coat, cover and cook on low for 8 hours (or high for 4 hours).

After cooking, keep the liquid in the slow cooker and remove chicken to a large bowl and shred.

Add the butter and ranch dressing mix to the liquid and stir to melt/combine.

Return shredded chicken to slow cooker. Stir to coat.

Cook for an additional 20-30 minutes to allow the chicken to absorb more flavor.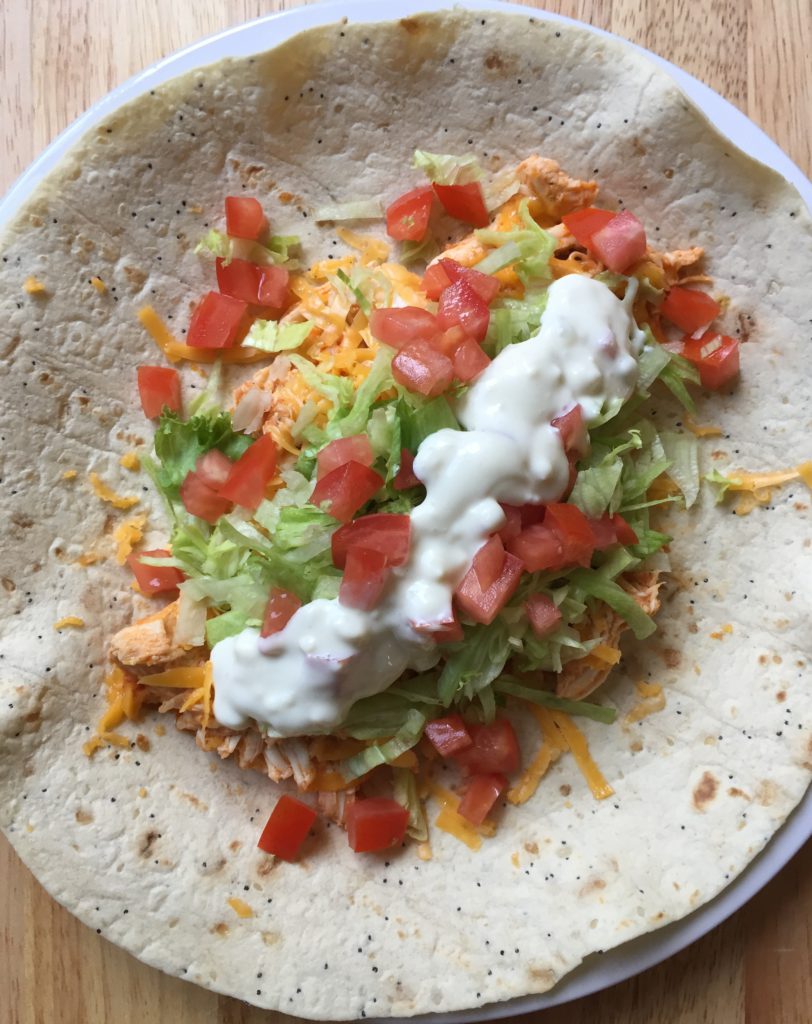 Cost breakdown: only $1.59/serving!
This crock pot buffalo chicken recipe is great for cooking on a budget! Here is the breakdown of the main ingredients at the prices I found them:
4lb boneless skinless chicken breast – $8.00
1 12oz bottle of Frank's Red Hot buffalo sauce – $2.50
1/2 stick of unsalted butter – $0.75
4 cloves of crushed garlic – $0.50
1/2 packet of ranch seasoning – $1.00
Total – $12.75
Per serving – $1.59
Fun ways to serve shredded buffalo chicken
There are plenty of ways to serve up this delicious buffalo chicken, and I usually can't keep myself from eating some plain as soon as it's done cooking! Here are some more ideas:
Serve over cauliflower rice with ranch/blue cheese garnished with scallions
Make some keto bread and have a delicious buffalo chicken sandwich (with tomato and avocado… yum)
Make a keto-friendly buffalo chicken fathead pizza with cheese and ranch!
My favorite, an easy option: buffalo chicken wrap on a low-carb tortilla (pictured above)

I hope you enjoy this scrumptious crock pot buffalo chicken recipe! If you have any questions or thoughts please leave a comment and/or check out our other articles all about keto and keto-friendly recipes!
Ketotude.com is a participant in the Amazon Services LLC Associates Program, an affiliate advertising program designed to provide a means for sites to earn advertising fees by advertising and linking to amazon.com. This article contains affiliate links to the reviewed products.